MP Auto Repair Centre/ Petrie Auto Electrics are a locally owned and operated business.
It is run in partnership with Mark Anderson and Peter Panetta.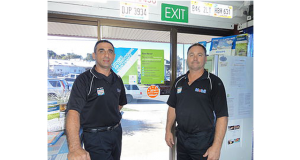 Mark is a highly credentialed Auto Electrician; He is highly respected in the community.
Peter is also highly credentialed He studied his craft at the university of NSW graduating with honors, His early training was working on all makes of motor cars but specializing in European prestige cars, BMW, Mercedes Benz, Alfa Romaeo and the likes.
Both Mark and Peter are family men with young families.
We also Have a Tyre Center which can cater for any of your Tyre needs, We can offer you most brands of tyre including, Pirelli, Bridgestone, Good Year, Ovation and many more top and budget brands. We are a repair center that work on all types of vehicles, from a general service to a complete motor re build. Our technicians are all qualified and have great work ethics. The business is run in Partnership between Mark Anderson and Pietro Panetta, both highly respected in their field. Mark is a qualified Auto Electrician highly sought after for his expertise, experience and knowlege in his field. Pietro is a highly acclaimed A Grade Mechanic with many years experience with most makes of vehicles . His early years were spent in Sydney where he became well known in the industry for his expertise with prestige european cars. Both Mark and Peter are local residents and have young familes. They both understand the importance of Safe , affordable motoring and their prices and dedication are more than fair. Go to Start local, True local and WOMO to see some of their appreciative customer reviews, Give Mark or Pietro a call on (07) 32854666 for a totally free quote or advice.
MP Auto Repair Centre provide vehicle maintenance, repairs and diagnostics for all makes of vehicles. They guarantee a first class service at an affordable price.
The technicians at MP Auto Repair Centre are trained on the latest technologies and have the most up-to-date diagnostic equipment to pinpoint any faults in your car as quickly and accurately as possible. Any parts that need to be replaced will be of the same quality as those that were originally fitted on your vehicle.
MP Auto Repair Centre works to an Office of Fair Trading approved Consumer Code of Practice. This commitment to customer care gives you peace of mind in knowing that you are going to be given not only the best technical service, but also the best customer service.
If you want affordability combined with the highest technical and customer service standards, then why not callMP Auto Repair Centre.
MP Auto Repairs offer a vast range of services , BOAT repairs, Quality Affordable Tyres, Car Batteries, European Car Mechanic, A Grade Mechanic, Female friendly, Tractor Repairs, Motor bike repairs, Car Mechanic, Auto Electrics, Brake repairs, Exhaust repairs, Car Repairs, Auto Repairs, Mechanical repairs, A GRADE Mechanic, Car Brake repairs, Exhaust repairs, Muffler repairs.
We service the whole of the Northside of Brisbane, Redcliffe, Rothwell, Petrie, Kallangur, Caboolture, North Lakes, Strathpine, Burpengary, and all other places in between.